As an essential public health tool, contact tracing has been applied to break the chains of human-to-human transmission and control the spread of COVID-19. According to the WHO, contact tracing is the "process of identifying, assessing, and managing people who have been exposed to a disease to prevent onward transmission". To investigate cases and trace their contacts, there exist two avenues: manual and digital.
Digital apps can contribute to increase the efficiency of contact tracing
Manual contact tracing is time and manpower-consuming. Generally, the process of contact tracing should include contact identification, listing and follow-up (WHO). The Center for Teaching and Learning at Johns Hopkins Bloomberg School of Public Health further defines 6 steps to accomplish the monitoring process. Each step requires database management, quality assurance, and personnel management (hiring, training, insurance, etc.).
However, the number of cases and contacts across countries has been rapidly increasing and then, it becomes obvious that manually tracing contacts becomes not efficient enough. To support contact tracing, digital apps have been built and can automate each task. This releases the public health staff from daily calls on case reports, reduces their burden of data input, and saves the time on identifying cases and breaking the chain of transmission.
Apps have been used across the globe to support virus containment and protection of fragile population
Since the first tracing app was implemented in China, 25 countries have developed or have been developing their contact tracing app since March 2020. Among these 25 apps, 17 apps have been launched and the rest are in stage of development. The French tracing app, namely StopCovid, was launched on June 2nd.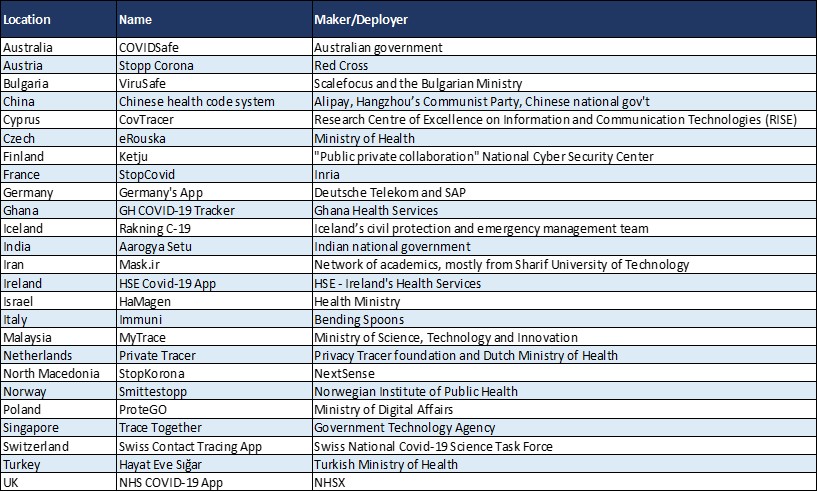 COVID-19 contact tracing apps developped worldwide
May 2020 – MIT Technology Review's Covid Tracing Tracker DB
Digital contact tracing tools vary in technology and features. In terms of technology, bluetooth and location are the main building blocks utlilized to create contact tracing apps. For example, the TraceTogether app developed by Singapore government uses short-distance Bluetooth signaling between devices to detect users in close proximity. All data collected are automatically deleted after a period of 21 days. Google and Apple have announced a joint effort to enable the use of Bluetooth technology with user privacy and security central to the design. The first version of their exposure notification API, that works across iOS and Android mobile devices, has been released at the end of April.
Each country has developed contact tracing apps with different features. For example, the majority of the 25 apps collect data with the permission of the user, excluding India, Turkey, and China. In India, downloading the app called Aarogya Setu ("Healthcare Bridge" in Hindi) is mandatory and allows people to move for working or traveling. Furthermore, almost half of the apps store users' data in centralized servers, which causes users' concern about the privacy.
Data science plays an increasingly pivotal role in the healthcare industry
Relying on smartphone apps largely reduces workload of public health staff and contributes to efficiently tracking and managing COVID-19 cases. The manual contact tracing is very time-consuming, especially when during such a particular period, public health staff's time is limited and the need to reach people as quickly as possible is urgent. Data analytics can make public health interventions more effective.
To download our Position Paper
DIGITAL HEALTH IN TIMES OF PANDEMICS
How will the Covid-19 crisis help build a new place for digital health?
As a byproduct of this unprecedented pandemic, digital tracing apps inevitably raise concerns from citizens. Most common are ethical concerns such as privacy, confidentiality, and autonomy. Facing this pandemic spreading worldwide with major human and economic losses, how should individuals balance personal rights and public health? How should governments act to make sure that these apps keep users' privacy and confidentiality safe? Supposing that most people choose to not enter their data in the contact tracing apps, will these apps still make sense to stop the COVID-19? And beyond COVID-19, what place should such tools take in the future of public health management?
There is no doubt that digital technology could increase efficiency of traditional contact tracing methods. While leveraging all strategies to break down virus transmission is the mission of public health institutions, the use of digital solutions requires the trust and empowerment of citizens to make it effective. The coming years are, from a digital public health perspective, expected to be fascinating to follow.
About the authors
Chaoyue, Consultant in Alcimed's Life Sciences team in France
Benjamin, Great Explorer Digital Health in Alcimed's Healthcare team in France
Do you have an exploration project?
Our explorers are ready to discuss it with you