It is now estimated that 60% of patients with chronic diseases are not adherent. This problem, which affects patients because they do not reach their therapeutic objectives, has an additional impact on the healthcare system estimated at 9 billion euros per year in France [1]. Regular patient follow-up is key to improve medication adherence. To this end, digital tools provide a solution to help patients manage their treatments. Several uses of digital technology make it possible to alleviate the problem of non-adherence, ranging from a simple reminder to take the treatment to a stand-alone medical device to administer the treatment. Alcimed takes stock of these new technologies.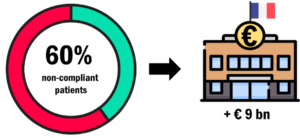 When digital assists us: improving medication adherence with the setting of treatment reminders
Among the most accessible versions of these solutions is the setting of reminders with SMS or alerts via an application. Improved versions require voluntary confirmation from the patient, based either on trust in the patient or on control of the treatment intake. Thus, with some apps, the patient himself validates that he has taken his treatment, usually via a positive response on the application: it is the simplest version from a technological point of view, which explains the high number of this type of solutions on the market. In more advanced cases, the patient voluntarily undergoes a check certifying that the treatment has been taken. This is what nGageIT has developed, with a sensor of nanoparticles previously incorporated into the treatment: after taking his treatment, the patient blows into a sensor capable of detecting the presence of these nanoparticles.
When digital tracks us: improving medication adherence with automatic detection of treatment intake
For a regular monitoring that does not rely on the patient's willingness to undergo an adherence check, some solutions have been developed to automatically detect treatment intake. These solutions range from simple connected tablet organizers to more advanced devices: for example, the FDA approved in 2017 the first treatment integrating an ingestible digital detection system, Abilify MyCite. The drug is combined with a sensor that, when ingested, sends a signal to a chip worn by the patient. The information is then transferred to an application for monitoring adherence: this type of tool can be used to generate personalized alerts when the patient forgets to take his medication.
When digital takes control: improving adherence with automatic administration of treatment
For an optimal level of adherence, what if we could administer the treatment automatically to the patient, at the right time? The level of technology required as well as the associated risk limits the number of solutions currently on the market. Those include Diabeloop, a connected medical device consisting of a continuous glucose sensor combined with an insulin pump, which, thanks to artificial intelligence, optimally calculates and injects insulin doses into the patient.
---
Learn more about the potential and challenges of e-health for the pharma and medical device industry >
---
To improve medication adherence, digital solutions can therefore be used at 3 levels: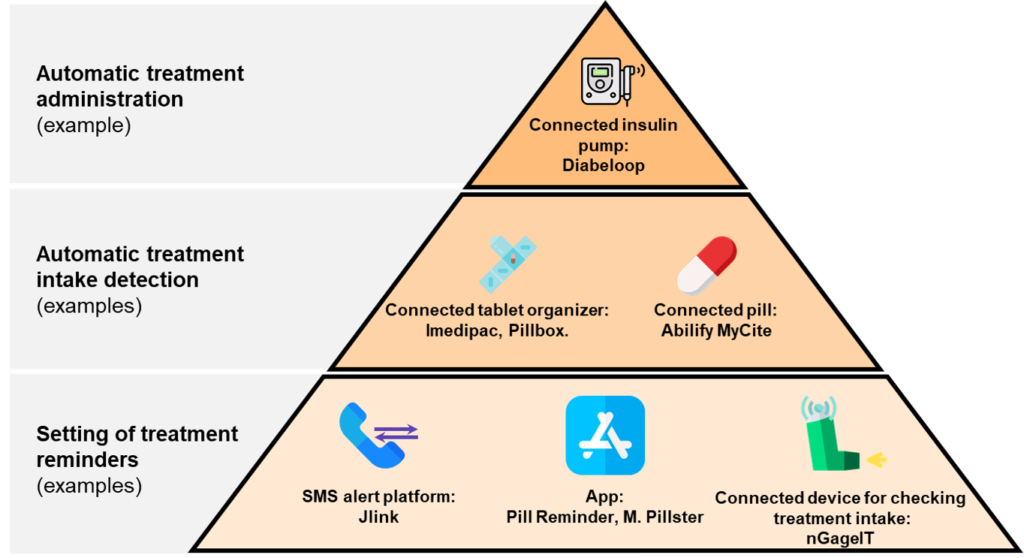 For optimal efficiency, these solutions must be part of a global patient follow-up scheme. The transmission of data to third parties – not only relatives of the patient but also the medical team – is key to bring an appropriate response. However, the remote management of data from a large number of patients requires a specific organization, with an emergency prioritization system and dedicated staff, which is still far from being the norm today.
About the authors
Riwan, Consultant in Alcimed's Healthcare team in France
Héléna, Senior Consultant in Alcimed's Healthcare team in France
[1] IMS Health, 2014
Do you have an exploration project?
Our explorers are ready to discuss it with you