The demonstrated high efficacy of mRNA-based COVID-19 vaccines has finally provided significant clinical proof of concept for a technology long promised. However, there are still some important milestones before it is certified as the go to technology for vaccines, especially in pandemic settings. In this article, Alcimed will explores the mRNA technology journey till now and what it's future may look like beyond the COVID-19 pandemic.
mRNA technology: the long road to clinical proof
mRNA vaccines and therapeutics have benefited from decades of research and innovation. The path to messenger RNA vaccines started in 1961 with the discovery of mRNA and continued in the late 70's and early 80's with the first liposome-wrapped mRNA delivery to cells providing the first indication that exogenous mRNA could potentially be used clinically. Years of research on the use of messenger RNA as therapeutic agents and vaccines became the cornerstone of the first mRNA therapeutics company in 1997. But the largest mRNA companies in existence today were created shortly thereafter: CureVac (2000), BioNTech (2008) and Moderna (2010). While all three companies had both prophylactic and therapeutic targets in their development pipelines, none of them had achieved market authorization for an mRNA technology product. When the pandemic began, mRNA technology platforms seized the opportunity to prove that their platforms were up to the challenge.
At the beginning of the pandemic, research scientists and pharmaceutical companies were extremely careful not to promise quick vaccine development. The fastest any vaccine had previously been developed was four years, for mumps in the 1960s. The record is now held by the Pfizer/BioNTech and Moderna mRNA vaccines, which received emergency use approval from the FDA and subsequently from the EMA only 11 months after the SARS-CoV-2 viral genome was shared by China. The COVID-19 crisis has shown the development process can be accelerated substantially without compromising on safety.
mRNA vaccines development speeds require a coordinated effort
The mRNA vaccine technology contributed directly to the speed of development for COVID-19 vaccines. Since the messenger RNA are synthesized synthetically, vaccine candidates can be developed for testing within a few days of the virus genome of interest being sequenced. Traditional protein subunit vaccines require protein production in cell culture requiring at least a few months of work. With GMP manufacturing capacities at the ready from other clinical development assets, Pfizer/BioNTech and Moderna were ready for preliminary safety testing in only a few weeks. The flexibility of the mRNA manufacturing process is by nature flexible allowing for the lipid nanoparticle (LNP) formulations developed for other clinical assets were quickly repurposed for COVID-19 vaccines, since they are not specific to the mRNA sequence needing to be delivered. This flexibility has also enabled the replacement of mRNA sequence used in the vaccine to address new variants, as the SARS-CoV-2 spike protein has evolved throughout the pandemic.
---
Learn more about the challenges related to mRNA therapeutics >
---
So, while the rapid development of COVID-19 vaccines was driven by decades of work on mRNA-based vaccines, it had to be combined with the global urgency of the crisis and an ecosystem oriented for speed. The sense of urgency and the huge investments poured into vaccine development allowed vaccine developers to take risks and run several trials at the same time. This investment reduced the waiting times between results in each development phase. The approval process was also sped up: the FDA usually reviews a drug in about 10 months but only took about 20 days for Pfizer and Moderna mRNA vaccines.
Is mRNA vaccines process manufacturing fast enough to thwart future pandemics?
As we have seen during the COVID-19 pandemic, agile and rapid-response vaccine platforms, like mRNA, are crucial for pandemic preparedness and pandemic response. The Coalition for Epidemic Preparedness Innovations (CEPI), a think tank and organization focused on the use of vaccine technologies in anticipation of future viral outbreaks, has declared that an effective vaccine against a new pathogen must be ready within 100 days after pathogen detection. This sets an extremely very high bar, but mRNA vaccine development platforms may be capable of fulfilling this requirement, helping to ensure proper management of future pandemic events.
Messenger RNA vaccines will still need some clinical proof concerning how long the response really lasts as well as some additional technological advancements to overcome the current weakness of the platform with respect to pandemic settings as we have seen during the COVID-19 pandemic.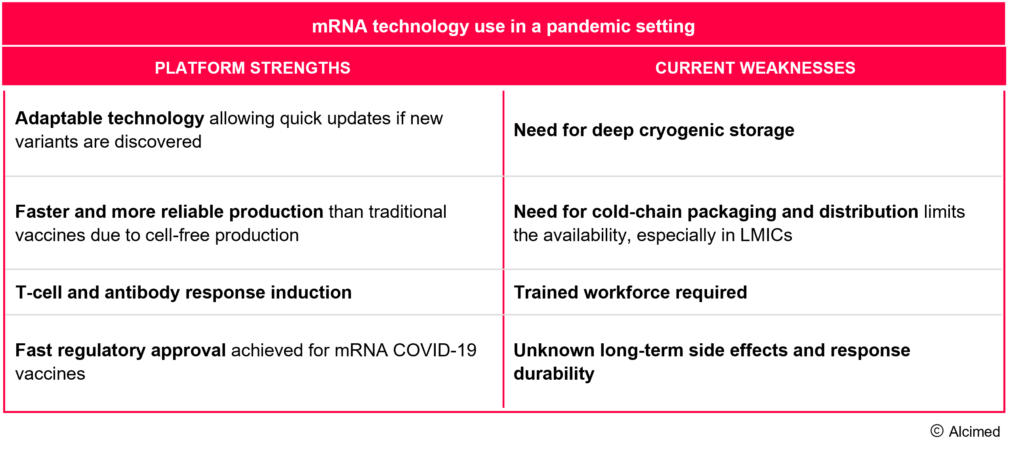 Also read our recent article "What are the latest developments in mRNA manufacturing?" for a good review of the active developments in mRNA technology manufacturing that could ultimately enhance mRNA's relevance as the premier pandemic preparedness platform.
On the other hand, overcoming the need for cryogenic storage cold-chain logistics will require significant reformulation of the lipid nanoparticules (LNPs) used to deliver the mRNA, which is underway. The LNPs used for the current vaccines were not optimized for vaccine delivery but were taken from other programs to maximize development speed. Therefore, before the next pandemic, efforts focused on LNP stability, improved reactogenicity, and cost per dose could remove many of the current technological weaknesses associated with the mRNA technology platform for pandemic settings.
Global access to mRNA technology is key to pandemic preparedness
Global and equitable access to vaccines are the most powerful defenses against pandemic diseases, as it can prevent the virus from circulating and driving virus mutations. However, while the agility of the mRNA technology platform could allow for the quick global development of vaccines, constraints including restricted intellectual property (IP), lack of trained medical personnel, and local vaccine production capacity limit access to mRNA vaccines in low- and middle-income countries (LMICs).
Read also : Lessons learned from the end of COVAX: major achievements and key success factors to prepare for the next pandemic
In order to mitigate this risk and to improve access to mRNA vaccines, the WHO is facilitating mRNA vaccine technology hubs in developing countries. WHO Director, General Tedros Adhanom Ghebreyesus, stated that "building those skills will ensure that they can manufacture the health products they need at a good quality standard so that they no longer have to wait at the end of the queue.". The training and technology diffusion provided by WHO will ensure that local governments and companies can control the production and intellectual property of the development of vaccines in the future. WHO is currently working with a South African consortium in the establishment of its first COVID messenger RNA vaccine technology transfer hub. The project has succeeded to produce a prototype COVID-19 vaccine based on the openly available virus sequence. In February, the WHO announced that this technology will also be shared with several other countries such as Bangladesh, Indonesia, Pakistan, Serbia, and Vietnam.
In addition, pharmaceutical companies have joined in on investing in LMICs: both Moderna and BioNTech have announced their intention to build vaccine manufacturing capacity in Africa. In early March, Moderna signed a memorandum of understanding with the Kenyan government to build a $500 million vaccine manufacturing site capable of producing 500 million doses of mRNA vaccines a year. The company also declared that it will not enforce its Covid-19 vaccine-related patents in more than 90 low- and middle-income countries .
While mRNA technology has managed to overcome the challenges of the COVID pandemic, there is a current and pressing need to continue to push the vaccine platform development forward globally. As Melanie Saville, Director of Vaccine Research and Development at the CEPI points out, "while it is not possible to prepare a vaccine for every virus ahead of time, we can prepare a global infrastructure and invest in new technology that speeds up the vaccine development process." Alcimed is closely following the rapid developments in the field of pandemic preparedness and is ready to support you in your projects related to mRNA technology. Don't hesitate to contact our team!
---
About the authors, 
Julie and Danna, Consultants in the Alcimed's Healthcare team in USA.
Do you have an exploration project?
Our explorers are ready to discuss it with you