Business plan
Alcimed assists its clients in making business plans enabling them to develop or create a new activity. We structure your strategy, business model, development plan and expected return on investment to materialize your project and attract new partners and investors.
Have a project? Contact our team!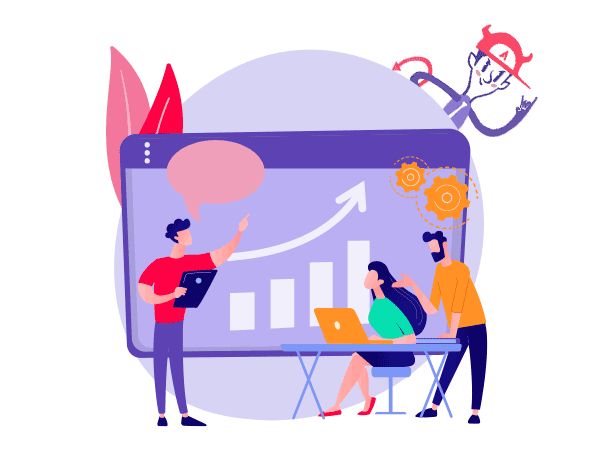 How we help you build your business plan
After having carried out a market study and defined a business model, we help you to structure and write your marketing strategy, your development plan, and support you in the construction of your financial tables (projected income statement, financing plan, …) in order to convince your partners or potential decision-makers.
Our innovative investigation methods allow us to explore the field of possibilities in order to build a development strategy adapted to your stakes and synthesized in a complete and robust business plan.
Some examples of business plan projects for our clients
Development of the strategic roadmap and business plan of a biotechnology company
Our team supported the board of directors of an innovative biotechnology company in the field of neonatal diagnostics, which wanted to rethink its 5-year strategy and build a business plan to raise funds to support its new development ambition. After carrying out a market study in several key geographies, and on the basis of several workshops with the management, we co-constructed with our client a complete 5-year business plan allowing to take several strategic decisions (discontinuation of some activities, development of others), to embark the internal team towards a new vision built in echo with the market, and to convince potential investors to support the projected growth.
Development of a business plan for a 3D manufacturing platform
We assisted a professional union in the development of a business plan for a 3D manufacturing platform. Our team made it possible to compare the offer with the market reality in order to have a quantitative projection of the potential and the sectors of interest, then built the business plan of the company. This work won a regionalized Call for Projects (AAP) and provided a seed fund.
Development of a business plan for a medical device in the field of interventional imaging
We assisted a medical device client in evaluating the potential of a new device dedicated to interventional imaging and built the associated business plan. Our team explored the receptivity of potential users and buyers of this device, in different types of establishments and in different geographies. The understanding of the purchase and reimbursement mechanisms in the countries of interest allowed us to define possible monetization strategies and to design the best development option for our client, with its associated business plan. Ultimately, our client decided to launch this innovation in a few targeted markets.
Challenge and definition of a business plan for a start-up in the field of human nutrition
Our team supported the CEO of a start-up in the field of nutrition in the definition and formalization of its business plan in preparation for a fund-raising. Our client wanted to better understand certain aspects of the dietary supplements market in order to validate the positioning of his company and consequently his products, before finalizing his business plan in preparation for discussions with potential investors. Our team carried out a market study in several European countries, in order to analyze the market potential for our client's products, and to confront its positioning and development strategy. We then finalized and structured parts of the business plan with our client, and challenged the final financial plans with potential investors specialized in the field. Our project enabled our client to finalize its strategy and prepare for its upcoming discussions with investors!

Founded in 1993, Alcimed is an innovation and new business consulting firm, specializing in innovation driven sectors: life sciences (healthcare, biotech, agrifood), energy, environment, mobility, chemicals, materials, cosmetics, aeronautics, space and defence.

Our purpose? Helping both private and public decision-makers explore and develop their uncharted territories: new technologies, new offers, new geographies, possible futures, and new ways to innovate.

Located across eight offices around the world (France, Europe, Singapore and the United States), our team is made up of 220 highly-qualified, multicultural and passionate explorers, with a blended science/technology and business culture.

Our dream? To build a team of 1,000 explorers, to design tomorrow's world hand in hand with our clients.