Innovation process
Alcimed supports its clients in the creation, questioning or improvement of their innovation process, with a view to stimulating creativity but also to rationalizing ideas. These processes can concern all aspects of an organization, from its management to its products and services, their business models or their marketing.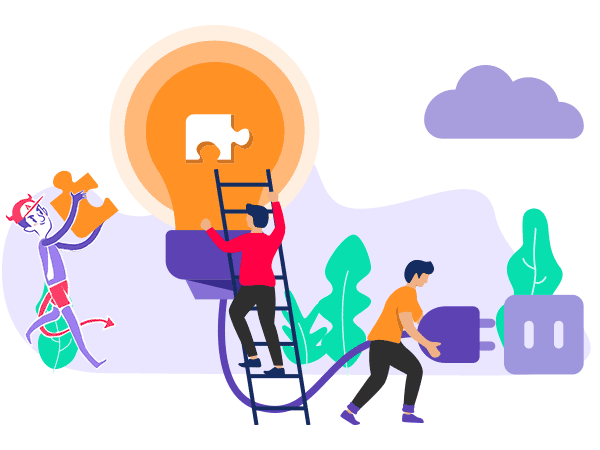 How we help you optimize your innovation process
An innovation process can be simply defined as a process that produces innovations. It generally goes from the creation of an idea or ideation, to the industrialization or commercialization of an innovation.
Typical steps in an innovation process include:
Scoping
Idea generation
Sorting and selection of ideas
In-depth study of ideas and business cases
Testing and development
Pilots
Deployment and impact or feedback analysis.
The difficulty often lies in the fact that an innovation process must be both abundant and focused, both flexible and methodical, and above all adapted to the strengths and capabilities of each company. The key success factors are strategy – i.e. the involvement of top management -, resources, methods and culture.
Some examples of optimizing innovation processes for our customers
Optimization of an innovation process to boost innovation within the teams of a leading animal health company
We helped a leader in the field of animal health to optimize its innovation process in order to instill a new spirit of innovation within its teams. Alcimed mapped current processes and compared them to innovation models of similar companies in order to rethink and co-develop a new model for idea generation, idea evaluation and project management once launched. Our team also suggested the creation of an annual trophy recognizing the best contributors of new ideas!
Improvement of an innovation process towards more open innovation for a leader in the agri-food industry
We supported the R&D team of a leading player in the food industry in optimizing its innovation process to accelerate the marketing of its products. Our client had an innovation process very rich in ideas but internally focused and not very open to an external ecosystem. This constraint generated many limitations, including slow idea characterization and feasibility checks. By conducting a benchmark of existing open innovation practices in the industry and leading a series of workshops with our client's teams, we identified and implemented actions to use external partners at various stages of the innovation process in order to accelerate the different stages and thus the marketing of product innovations.
Rethinking the innovation process of a pharmaceutical company for greater agility
Our team assisted a pharmaceutical player who found that his innovation process was not agile and efficient enough. We first exchanged with our client's teams to get a detailed understanding of what was working well and to identify the malfunctions of the initial process. Then, we identified inspiring cases from industries outside healthcare but facing the same issues and we defined the guiding principles of the new process to be implemented. With this material, we organized a "Sprint" bringing together about twenty representatives from the various departments and functions involved in innovation, in order to co-build the new model following the precepts of Design Thinking. Ultimately, this work enabled us to co-construct with our client's teams their new innovation process, more focused and more agile at the same time, allowing more disruption and empowerment of the teams!
Innovation process reinforced by designing an innovation factory dedicated to digital services
We worked with a major player in the aeronautics industry who wanted to develop new digital services, and who could not afford the very long traditional development times in aeronautics for this kind of innovation race! Everything had to be created from scratch: the process – from idea generation to prototype development -, the places, the people involved and the way they had to interact with each other, etc. A real innovation factory was born! We tested the new approach by supporting the teams on the first 3 ideas, and we also developed user guides, training materials and all relevant models, so that our client can now run it alone and efficiently.
You have an exploration project? Our explorers are ready to discuss it with you
Contact an Explorer