Innovation strategy
Alcimed supports its clients in a transversal way on the theme of "innovation" to build an innovation strategy that focuses their resources and processes on the creation of value in order to satisfy the needs of their targets.
Have a project? Contact our team!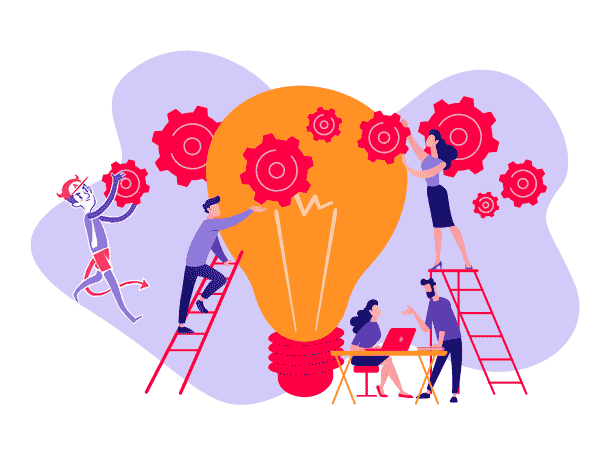 How we help you build your innovation strategy
Too often, business innovation is a set of disorganized initiatives that are poorly or not at all aligned with the company's strategy. Building an innovation strategy aims above all to focus people and processes on the real creation of value for the company. The type of innovation desired, the targeted competitive advantage, the involvement of internal teams, customers and external partners, the management of an innovation portfolio, the articulation of the development of innovations on a daily basis, … are all questions to be addressed.
To anchor the innovation strategy in the DNA of our customers, we also help them develop a corporate culture around innovation that motivates and mobilizes teams, and promotes interaction within the ecosystem.
Our teams also work on exploring, challenging and developing models such as open innovation, crowd-sourcing, frugal innovation, participative innovation, reverse innovation,… or reinventing business models, with tools such as the Business Canvas or Odyssey 3.14.
Some innovation models that we implement to work on your innovation strategy:
Open innovation: opening up the innovation process to external players – customers, suppliers, SMEs, other industrial companies, start-ups, universities, laboratories, etc. – to take part in the innovation process.
Crowdsourcing: submitting challenges to a community of web-based problem-solvers.
Frugal innovation: doing better with less (the genesis of this concept comes from developing countries who have to prove their ingenuity because they lack resources).
Participatory innovation: involving all the company's employees in the innovation process, for example through innovation contests or simply an idea box! This model leads above all to incremental innovations that are easy to reproduce.
Reverse innovation: identifying products developed for developing countries and adapting them for marketing in Western countries.
EXAMPLES OF RECENT INNOVATION STRATEGY PROJECTS FOR OUR CLIENTS
We assisted a leading pharmaceutical company that wanted to bring its teams together around innovation to develop
new products
,
new services
, new
market access
models and new ways of working; all in a special and unique place. We decided to generate this new momentum by imagining the creation of an "innovation laboratory", a physical place "apart". Through an external
benchmark
and internal
workshops
with a dedicated project team, we defined its operational functioning and
roadmap
and then organized the first events taking place in this new laboratory with employees now ready to innovate!
We created and launched a one-off challenge of external
open innovation
for an energy player wishing to boost a new innovation model in the field of robotics. Our teams assisted our client in defining the synopsis, writing the rules of the game and the technical specifications, identifying the financing methods, up to the launch of the challenge. About thirty teams responded to the challenge at the international level, but only one team won!
We worked with a major player in the aeronautics industry who wanted to
develop new digital services
, and who could not afford the very long traditional development times in aeronautics for this kind of innovation race! Everything had to be created from scratch: the process - from idea generation to prototype development -, the places, the people involved and the way they had to interact with each other, etc. A real innovation factory was born! We tested the new approach by accompanying the first 3 ideas, and we also developed user guides, training materials and all relevant models, so that our client could now run it alone and efficiently.
Founded in 1993, Alcimed is an innovation and new business consulting firm, specializing in innovation driven sectors: life sciences (healthcare, biotech, agrifood), energy, environment, mobility, chemicals, materials, cosmetics, aeronautics, space and defence.

Our purpose? Helping both private and public decision-makers explore and develop their uncharted territories: new technologies, new offers, new geographies, possible futures, and new ways to innovate.

Located across eight offices around the world (France, Europe, Singapore and the United States), our team is made up of 220 highly-qualified, multicultural and passionate explorers, with a blended science/technology and business culture.

Our dream? To build a team of 1,000 explorers, to design tomorrow's world hand in hand with our clients.