Search for partners
Alcimed supports its customers in their search for partners to support their innovation projects and the development of new markets through collaborative work, by setting up a search for skills adapted to their problems.
Have a project? Contact our team!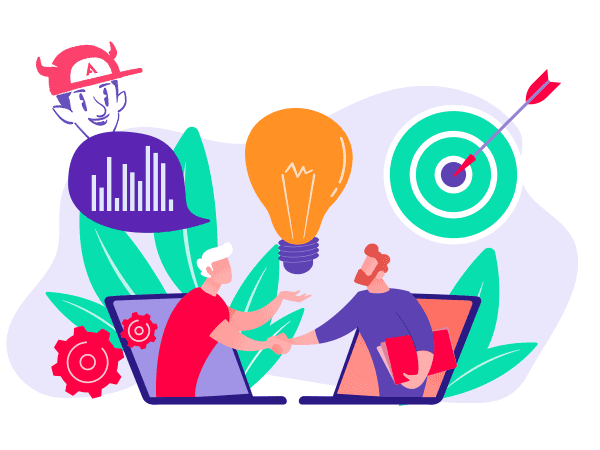 How we help you in your search for partners
Industrial partners or subcontractors, research organizations, universities, associations, SMEs or startups, our support facilitates the identification of the most relevant actors in relation to the problems of our customers. We develop simple visual tools for mapping, characterization and evaluation of potential partners, in order to guide the selection.
Alcimed also assists its clients in the mobilization of their target partners as well as in the organization of their collaborative project through innovative co-building working sessions (workshops, world café, etc.) and the regular monitoring of each one's work.
Some examples of partner search for our clients
Search for partners in e-health
We assisted one of our clients, a leading industrial player in healthcare, in the evaluation of a strategic opportunity in the e-health speech disorders market. To do so, our team conducted a literature review and interviews to identify the players, understand and evaluate the teletherapy market for speech and language disorders. We interviewed potential partners to understand their solutions, their current business models and to consider a partnership with our client.For this research, our team developed an interactive Excel tool that allows to describe and to visualize in an interactive way the potential partnership model between our client and each of the studied companies. In the end for this search for partners, our client was able to short-list partners, meet with them and conclude an agreement with one of them.
Identification of partners offering technologies to produce water from air
For a player in the energy sector, Alcimed carried out a mapping of technologies and associated suppliers enabling the transformation of air into water. Our team set up a three-step process: a first work to identify the main market data and trends, followed by a screening of the identified technologies based on their level of maturity and on key performance criteria for our client – leading to a listing of the companies active on the most promising technologies, and finally an analysis of the companies based on more economic criteria this time for a relevant search for partners. Thanks to this state of the art, our client was able to mobilize a network of key players for the development of its project.
Search for co-manufacturers in the agri-food sector
We helped one of our clients, a food service solution's provider, to identify co-manufacturers of plant-based products in the EMENA region to develop new partnerships. To do this, our team implemented a 2-step approach, starting with a mapping of the different manufacturers in the market, to identify the possible partnering opportunities for our client. Then, after an intermediate stage of pre-selecting the most promising partners based on criteria defined with our client, we evaluated and characterized the pre-selected partners in order to arrive at a shortlist of preferred partners. Our work enabled our client to define a list of trusted key players to continue their plant-based product manufacturing initiatives and to enter into initial discussions with these players.
Search for partners and assistance in the preparation of a financing application for the "Eurostar" support programme
Our "Innovation and Public Policy" team has assisted several project leaders in the preparation of a "Eurostars" funding application and the search for French and European industrial partners. Alcimed carried out a diagnosis of the current state of the project and then assisted the project leaders in identifying and setting up partnerships (identification of relevant partners, establishing contacts and developing the consortium). Following this, we wrote the financial file, in collaboration with the project leaders on the non-scientific parts, and proceeded to a global critical review, until the final file was sent.

Founded in 1993, Alcimed is an innovation and new business consulting firm, specializing in innovation driven sectors: life sciences (healthcare, biotech, agrifood), energy, environment, mobility, chemicals, materials, cosmetics, aeronautics, space and defence.

Our purpose? Helping both private and public decision-makers explore and develop their uncharted territories: new technologies, new offers, new geographies, possible futures, and new ways to innovate.

Located across eight offices around the world (France, Europe, Singapore and the United States), our team is made up of 220 highly-qualified, multicultural and passionate explorers, with a blended science/technology and business culture.

Our dream? To build a team of 1,000 explorers, to design tomorrow's world hand in hand with our clients.