Strategic audit
Alcimed assists its clients in carrying out strategic audits of their activities. Carrying out a strategic audit means analyzing, or diagnosing, the overall internal and external situation of a company in order to inform decision-making on future changes, investments or developments and assess their alignment with the strategies and objectives of the organization.
Have a project? Contact our team!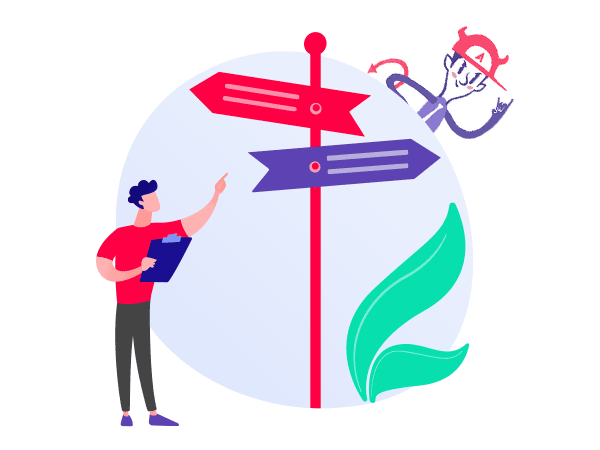 How we help you conduct a complete strategic audit
A strategic audit focuses on understanding and evaluating products and services, development areas, customers and markets, competitors, internal teams and skills, organization, processes, methods and technologies. The company's activities are often segmented into Strategic Business Areas (SBAs), which are positioned on a strengths-attractions matrix: what are the company's strengths compared to its competitors on this SBA? What is the attractiveness, or appeal, of the market for this SBA? Another widely used tool during a strategic audit is the famous SWOT (Strenghts Weaknesses Opportunities Threats) matrix, which allows the company to base its strategy on tangible contextual elements.
We believe that the quality of a strategic audit is based on two main elements: the ability to investigate the company's markets in detail, and the quality of the exchanges with internal teams, which is a guarantee of transparency and collaboration. Two elements that are mastered by Alcimed's explorers, who know their clients' business, speak the same language, and are specialized by sector.
Thanks to its sector expertise, Alcimed also works in the field of venture capital and carries out Strategic Due Diligence and Vendor Due Diligence.
Some examples of strategic audit projects for our clients
Strategic audit of the activities of a healthcare SME to define its new 5-year roadmap
Our team supported the management committee of an innovative SME in the field of diagnostics in rethinking its 5-year strategy and in building a roadmap to raise funds to support its new development ambition. To do so, we conducted a strategic audit of our client's activities worldwide, coupled with a market study in several key geographies. Our mission led to the co-construction of a 5-year strategic roadmap with our client, which enabled to validate several strategic decisions (discontinuation of some activities, development of others), to embark the internal team towards a new vision built in echo with the market, and to convince potential investors to support the projected growth.
Vendor Due Diligence of a company specialized in medical devices for dependent elderly people
Our team assisted a company specializing in medical devices for the elderly in the preparation of a Vendor Due Diligence report with a view to a potential sale of its activities. In order to present this investment opportunity to potential investors, Alcimed carried out a complete strategic audit: analysis of the potential market and of the market potential, customer segmentation, identification of market drivers and barriers, competitor analysis, regulatory analysis, critical opinion on the company's 5-year business plan. Our report summarized the opportunities and risks related to this investment, with neutrality, to inform the decision making of potential buyers.
Refine the development strategy of a cosmetics company, through a strategic audit of all its activities
One of our clients, a company specializing in cosmetics, active in many countries around the world, and having experienced a fairly rapid development through successive acquisitions, called upon our team in order to conduct a strategic audit of its activities. Its product portfolio was extremely diversified, and the top management lacked visibility on its real points of strength on which to base its future development. Alcimed conducted a strategic audit covering the entire portfolio and markets, resulting in a simplification into 9 Strategic Business Areas (SBAs). After an in-depth investigation, our diagnosis was shared, the SBAs likely to support the development were selected, and our work has enabled us to engage our client's teams on concrete action plans in line with a new strategy that is clear for all.
Strategic audit in the field of biopharmaceutical production
We assisted an investment fund in carrying out a strategic audit of a producer of stainless steel tanks in the biopharmaceutical and food-processing markets. We assessed the manufacturer's perception of its customers in both markets, and challenged the coherence between the offer and the market's needs and expectations. The evaluation of the development prospects in both sectors allowed us to confirm the interest of investing in this producer and to have visibility on the development potential in the next 5 years.

Founded in 1993, Alcimed is an innovation and new business consulting firm, specializing in innovation driven sectors: life sciences (healthcare, biotech, agrifood), energy, environment, mobility, chemicals, materials, cosmetics, aeronautics, space and defence.

Our purpose? Helping both private and public decision-makers explore and develop their uncharted territories: new technologies, new offers, new geographies, possible futures, and new ways to innovate.

Located across eight offices around the world (France, Europe, Singapore and the United States), our team is made up of 220 highly-qualified, multicultural and passionate explorers, with a blended science/technology and business culture.

Our dream? To build a team of 1,000 explorers, to design tomorrow's world hand in hand with our clients.