Workshops
Alcimed supports its clients in the organization and the animation of workshops, organized ad hoc in face-to-face or remote location.
Have a project? Contact our team!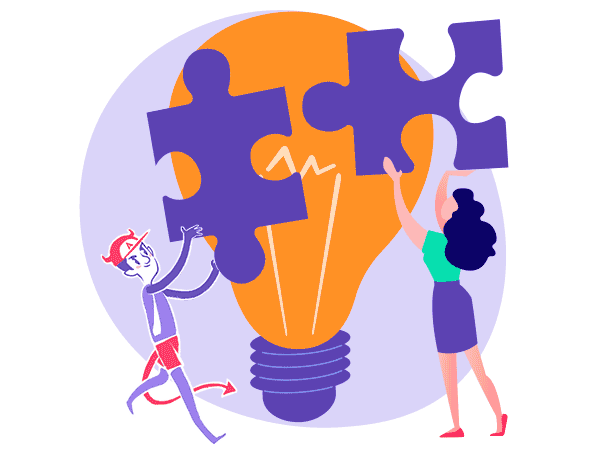 How we help you to organize and animate your workshops
For us, workshops are an excellent opportunity to directly involve our clients in sessions of creativity, sharing, alignment, co-construction and team-building. All our workshops are organized on an ad hoc basis, in person or remotely, and combine our mastery of the substance with specific methodologies (design thinking, consensus, simulation…), fun animation methods (role-playing games, wargames, escape games, life-size games, customized board games, etc.), and innovative and/or creative tools (horn, magic pens, 20 second kit, marshmallow, lego…).
Some examples of workshops conducted for our customers
Workshop organization: co-definition of a shared ambition and an associated roadmap
We supported the members of the management committee of a leading player in the vaccine industry in the co-construction of the ambition and the definition of the company's five-year strategic roadmap. First, our team conducted an initial preparation phase for the workshop (analysis of the company's current situation, understanding of the key challenges within 5 years, possible ways of evolution for the company and each function, etc.). We then organized a two-day workshop mixing plenary sessions (co-definition of the ambition, intervention of external speakers,…), co-construction sessions in sub-groups (declination of the ambition into action plans by strategic pillar,…) and moments of fun, exchange or team-building during breaks, lunches and evenings. This exercise enabled our client to reach its objective of co-construction, by aligning its management committee towards an evolution desired and shared by all, while reinforcing cohesion within the whole team.
Creative workshop: preparation and animation of a "culinary" workshop to decide on R&D investments
Our team supported the global R&D team of a leading food company in the development of its future product portfolio through a "culinary workshop". To do so, we organized and moderated a two-day workshop gathering about 40 participants, with the aim of selecting the two R&D programs to be conducted in the next few years. From the collection of their "ingredients" (ideas) to the realization of their "recipe" (R&D investment program), Alcimed supported the several R&D "kitchen" teams in the construction of their future during these two days. Mixing numerous sub-team activities, presentation and voting sessions in plenary, and team building activities, our workshop resulted in the pre-selection of two of the developed programs to be evaluated by the company's executive committee.
Inspiration workshop: benchmark of innovative business models in animal health
We worked with a leading player in the animal health sector who wanted to imagine new business models in connection with new services to be developed. We organized an "inspiration" workshop bringing together players from different sectors such as Butagaz, Xerox, Samsung and Somfy. This workshop comprised 2 steps: the first one consisted in better understanding the history, the best practices and the key success factors of these inspiring companies' models, and the second one consisted in co-constructing with our client the most adapted model to their case. Our approach enabled our client to draw inspiration from other non-competitive players to define an innovative business model that would differentiate themselves from existing models.
Co-construction workshop: definition of new services to improve the well-being and patients quality of life throughout their patient pathway
Our team helped a leading pharmaceutical company to understand the emotions experienced by patients with rare diseases in order to develop a service offering that would improve their well-being and quality of life. After mapping the emotions of patients throughout their care pathway (from pre-diagnosis to palliative care) in several European countries, our team benchmarked patient services around the world, before organizing a workshop with our client's medical and marketing teams to select service ideas and pre-define service offerings to address the emotional challenges identified with patients.

Founded in 1993, Alcimed is an innovation and new business consulting firm, specializing in innovation driven sectors: life sciences (healthcare, biotech, agrifood), energy, environment, mobility, chemicals, materials, cosmetics, aeronautics, space and defence.

Our purpose? Helping both private and public decision-makers explore and develop their uncharted territories: new technologies, new offers, new geographies, possible futures, and new ways to innovate.

Located across eight offices around the world (France, Europe, Singapore and the United States), our team is made up of 220 highly-qualified, multicultural and passionate explorers, with a blended science/technology and business culture.

Our dream? To build a team of 1,000 explorers, to design tomorrow's world hand in hand with our clients.