GÉRALDINE AND VALÉRIE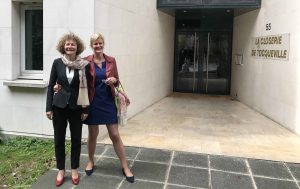 Our adventure started in 1993 when Valerie and Geraldine founded Alcimed. Both were graduates of Ecole Centrale Paris and both had a passion for Biotechnology. At the time, Biotechnology was uncharted territory. Little to no data had been gathered and applications were still immature. The question was how to do innovation consulting, to market and develop strategies for scientifically- and technologically- complex products and services aiming for poorly structured markets? Thus, Alcimed developed its unique expertise in exploring emerging territories and developing new business, which remains Alcimed's mission to this day !
From Biotechnology, we, at Alcimed, rapidly expanded into the Healthcare industry and we now work for the world's top 20 pharmaceutical companies. We have gradually explored further into the Life Sciences field (e.g. agri-food, cosmetics), Public Policy and other industries, including Chemicals/Materials, Energy, Environment, Aeronautics/Space/Defence, and transport.
In 2005 we set out fornew worlds overseas and opened six base camps in Europe and the United States. Our appetite for adventure led us to emerging markets in 2013 where we now conduct highly regarded research. In 2016 we set up camp in Singapore.
From just two people, we are now a team of 200 explorers, all working together to build the world of tomorrow. And we are constantly seeking new adventures! We already plan to set up camp in China and California while exploring further afield and new uncharted territories. Our goal is to build a team of 1000 explorers.